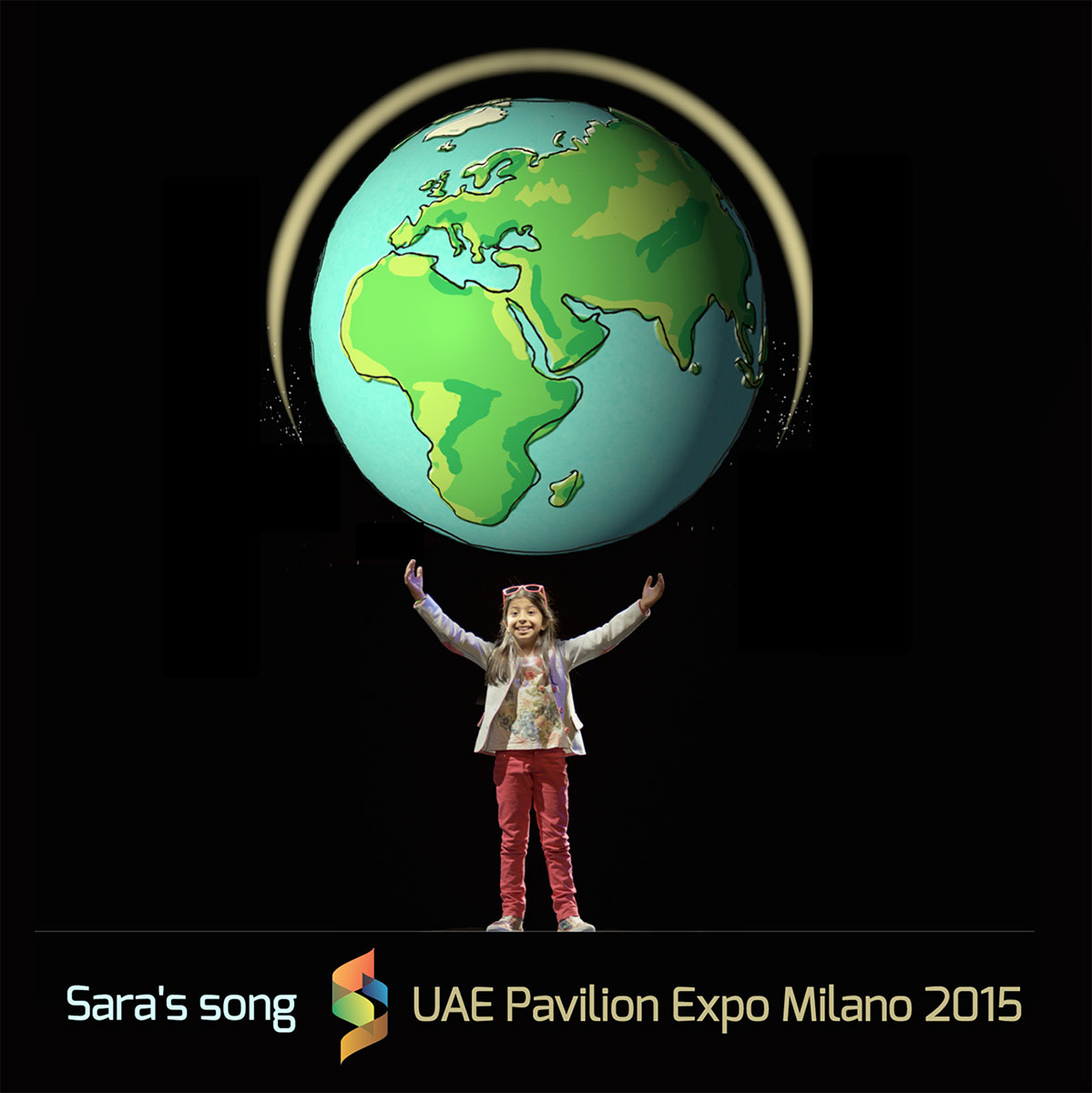 Just five days before the opening of EXPO 2015 in Milan a devastating earthquake struck Nepal, destroying whole villages and killing or injuring thousands of people. The contrast between the excitement and anticipation around the last few days before the World Fair, and the suffering, desolation and despair in Nepal, could hardly have been more poignant. The UAE immediately responded to the tragedy with humanitarian assistance in the form of shelters, doctors, transportation and a strong message of support and hope for traumatised Nepalese.
A universal effort to help the victims of the biggest earthquake in living memory in Nepal seemed to bring into sharp focus the sentiments expressed by 'Sara' in 'Future Talk' at the UAE Pavilion. She sings of the frustration of seeing things going wrong with the world and the feelings of inadequacy as just one small person.
"Cause what can I do? – Alone and too small – I'd need to be a giant who is ten foot tall," she raps, wishing for powers she doesn't have. But the real message of the UAE pavilion at this iconic EXPO is expressed as she calls for everyone to "stand up, shout out and join in" – evoking the power of community, of partnership and of individuals taking their own initiatives. It is an energetic rap that goes straight to the heart and has inspired thousands of visitors to the pavilion. As the UAE has demonstrated time and time again, its message is one of facing up to challenges with energy and a determination to make positive contributions to 'our world'. 'Sara's Song' aptly catches these dynamics and endures long after people have said their farewells to Sara and her family through whom the story is told at EXPO Milano 2015.
The launch of Italian and English versions of 'Sara's Song' on iTunes stores in the UAE and Italy, plus other parts of the world, is in response to thousands of EXPO visitors requesting copies of the music. The UAE Pavilion Team felt it appropriate that funds raised should go to help people who lost their homes, livelihoods and loved ones in the Nepal earthquakes of April 2015. As visitors leave 'Future Talk' with Sara's Song ringing in their ears, they join in, singing and dancing to the music – especially the last lines in which Sara declares: "I'm in – I'm there – It's my planet too." It is an uplifting message of hope founded in a determination to tackle the issues that affect our world.
'Sara's Song' can be downloaded from iTunes in most regions.
https://itunes.apple.com/us/album/saras-song-single/id996152539
More information on the UAE Pavilion at EXPO Milano 2015 is available at www.expo2015uae.com, www.uaeinteract.com and on associated Facebook, Twitter and Instagram sites. Click here to view the article.